Welcome to Cabin Creations!
We carry a wide selection of products including:
At this time our close is closed due to the COVID pandemic. We appreciate your support during these tough times. We can still provide information via email, FB messenger, Instagram, and more. We can hold or ship any items and are offering free delivery in the Phillips area, as well as curbside delivery during select times. This website shows many of our larger items. Below you'll find another website that has a few items that can be purchased online. We also have a number of albums up on Facebook with a large selection of items available.
We are nestled in the beautiful Northwoods of Wisconsin, about 1 mile south of Phillips on State Highway 13. Our focus is on unique, high-quality, competitively-priced rustic decor and gifts for every occasion. We offer a wide selection of indoor Amish-made log furniture, outdoor poly lumber furniture, wall art, rugs, Yankee candles, cabin decor, children's items, clothing, gourmet food and gifts for all ages.
We now have select items available for purchase online! We are working hard to get more items on each day.
Here's the website:
https://harpers-cabin-creations-llc.myshopify.com/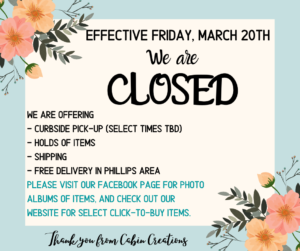 April Yankee Candle Fragrances of the Month, Available at 25% off:
Juicy  Citrus & Sea Salt, Lavender Vanilla, and Alfresco Afternoon
April Cheese of the Month
Harmony Specialty's Portobello Mushroom and Chive Abergele, $4.50
April Essential Oil of the Month, Available at 25% off: 
Oregano